Miracle Machines™
Featuring levers, pulleys, slides, and switches for kids to manipulate, Miracle Machines add a touch of whimsy to any playground. These elaborate tasks are designed to thrill and engage the senses for everyone ages 2 and up, helping to develop cognitive and fine motor skills as well as provide insights into cause-and-effect relationships. To make these mechanical series of play panels, Miracle® Recreation collaborated with The Rube Goldberg® Institute For Innovation & Creativity, a nonprofit organization that encourages creativity and access to STEM and STEAM education through the creation of comical and overly complicated chain-reaction machines that achieve a simple task.
The Rube Goldberg® Institute continues the legacy of its founder's grandfather, Rube Goldberg. The Pulitzer-prize winning cartoonist left an inerasable mark on pop culture through his depiction of hilariously impractical machines. By forming a partnership with the Rube Goldberg® Institute, Miracle Recreation brings unforeseen thrills and delights to the playground, beginning with the simple ideas of feeding a cat, making a cup of tea, and scoring a goal.
Curiosity Thrilled the Cat
…and the kids! Feed Cat her favorite treat by guiding the ball through dominoes, across a banana, and more! Decide whether to give it an extra fishy flavor, or take a shortcut and feed it to Cat as-is. With a myriad of amusing paths to choose from, kids can discuss their next course of action, take turns making decisions, or tackle it in a free-for-all style.
My Cup of Tea
Who knew making tea could get so complicated?! To get started, turn one of the two wheels (high and low options for better accessibility). Then use the pencil to guide it either through the plinking obstacles, or flick it down a series of ramps using a boot, fish, and more. Didn't get your favorite flavor? Spin the teacup to release the ball and make another!
Goooaaalll
It's the match-making point! Turn the wheel to get the ball rolling, then guide it to the net using a variety of gears, loops—even a bucket! Joyful sounds cheer on users as they make fast-paced decisions to help their team to victory. With a slanted design, kids of varying heights and ability can collaborate on this high-stakes play panel.
Add a touch of whimsy to your playground today using these inclusive play panels!
Interested in other products like these?
No learning space is complete without a SpinAtorium™. And have you ever travelled through a Momentum Corridor? Our Miracle Museum™ product line has a variety of unique experiences. Who said museums couldn't be thrilling?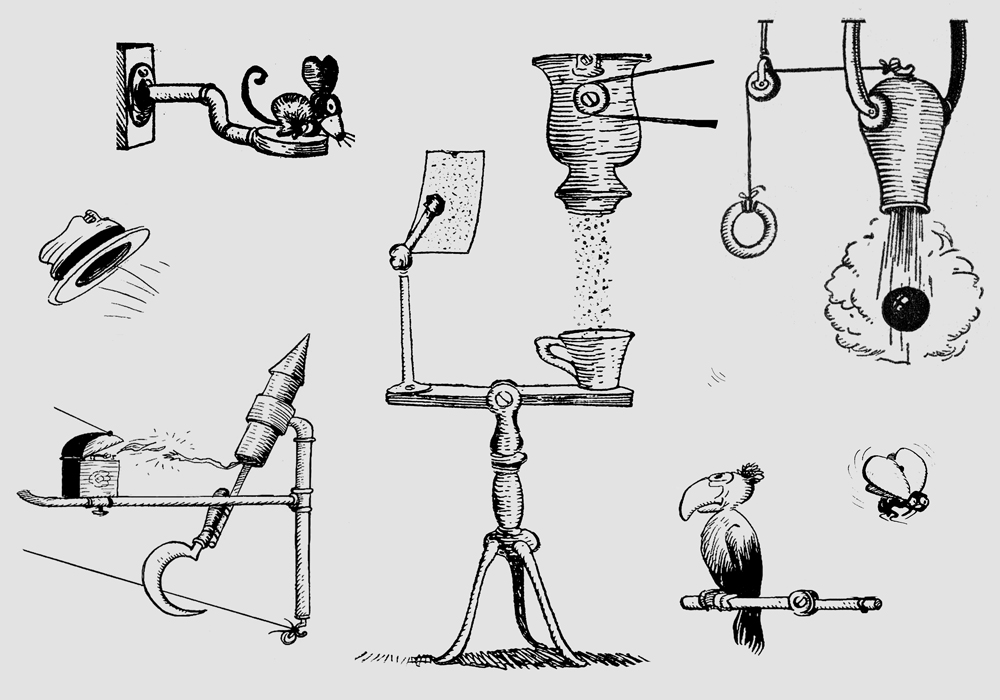 About Rube Goldberg®
As a cultural icon of the 20th century, Rube Goldberg (1883–1970), Pulitzer Prize-winning American cartoonist and innovator, continues to inspire audiences with his inventive genius. Of the estimated 50,000 cartoons he drew in his lifetime, Goldberg is best known for those that depict "Rube Goldberg Machines" — the chain-reaction contraptions, typically made from everyday objects, that solve a simple task in the most overly complicated, humorous, and inefficient way possible. In their funny functionality, Goldberg's inventions invite all of us to think more deeply about machines and mechanized processes, gadgets and technologies, and the very human ways in which we use them.
About The Rube Goldberg® Institute For Innovation & Creativity
The Rube Goldberg Institute stands as a "museum without walls," offering experiences designed for the 21st century that span the virtual and physical and introduce people to the rewards of engaging in the arts and sciences. Rube Goldberg's legacy reminds us of the crucial importance of informed observation, creative thinking, artistic response, problem-solving, curiosity, and inventiveness. The family-run Institute, founded in 1988, proudly works with educators, organizations, and commercial brands to present the world and work of Rube Goldberg through education, entertainment, and cultural endeavors inviting young people from around the world to discover the power of creativity and innovation. For more information about The Rube Goldberg® Institute For Innovation & Creativity, visit www.RubeGoldberg.org