Create the Play You Envision
Miracle® Recreation regularly partners with professional landscape architects to bring their visions to life. When designing an outdoor playground area with landscape architects, we collaborate closely with you, taking factors such as client budgets, space considerations, specific terrain issues and stakeholder input into consideration. Just share the scope of your project and your design ideas with us — the Miracle Recreation team of design professionals, our Custom Design Studio and our fully customizable playground equipment options can provide creative solutions for play and recreation projects of any size.
"The Mega Tower structure is AWESOME! It certainly has that 'wow factor' and is so much bigger and better in person. We have had an overwhelming positive reaction from the community which we couldn't have asked for anything more."
— Julie Gosselink, The Ahrens Park Foundation, Grinnell, Iowa
"Our rep was flawless. They were with us and made it easy every step of the way. This was one of the best experiences we have ever had it. We would recommend Miracle 100 percent."
— Pat Sullivan Mayor, Richland, Mississippi
"Miracle stands above everybody else. I would recommend this play structure and Miracle to any other city out there, to get their kids active and to increase their quality of life."
— Cole Smith, Director of Parks and Recreation, Richland, Mississippi
Read our Testimonials
Benefits of Designing Playground Equipment
As a landscape architect, you're likely experienced in developing public areas like parks, school grounds and other outdoor spaces. Though all of these community locations are different, they all have one thing in common — they could benefit from a high-quality playground. Commercial playground equipment offers many perks to communities, organizations and children alike, creating a widespread positive impact.
Versatility
Landscape architects often work with various types of clients. When you offer to design playgrounds, you can broaden your customer base by appealing to organizations that regularly express interest in playground equipment. There is a highly versatile clientele associated with playgrounds, including:
Schools.
Parks and recreation.
Places of worship.
Daycare centers.
Housing developments.
Campsites.
Urban areas.
Visual Appeal
No matter what type of project you're undertaking, incorporating a colorful playground is an excellent way to visually enhance your outdoor space. You can even design playground equipment that encompasses a specific theme or build custom solutions geared toward your clients.
For example, you might develop an adventure-themed playground like a pirate ship or castle for a school, a forest theme for a campground or a nautical theme for a waterside park. Playgrounds allow for endless possibilities when it comes to elevating the appearance of an outdoor area.
Economic Influence
You can do the most for your clients economically by implementing a playground set into their projects. Playgrounds are ideal for setting an outdoor space apart from others, bringing something new and exciting that people are drawn to.
Inclusive, sensory or themed playgrounds will likely create more foot traffic and revenue for the space they're in. Building playgrounds for residential areas like housing developments and apartment complexes can even increase the property value of surrounding homes and attract businesses to the area, boosting the local economy.
Community Value
When you develop playground equipment for parks and residential areas, you benefit the community in various ways:
Reducing crime: Studies have proven that playgrounds can improve the lives of at-risk youth and deter illegal acts like violent, property and disorderly crime.
Improving quality of life: Implementing a playground into a community can improve residents' quality of life by bettering their mental and physical health.
Creating a sense of community: Playgrounds encourage communities to come together. They're an ideal setting for people to form friendships with neighbors and visitors. These positive interactions create a greater sense of community by increasing harmony and feelings of belonging.
View 2021 Product Catalog
Check out our 2021 Product Catalog that features our latest commercial playground equipment and many new products.
Download Catalog
Outdoor Play Structures for Landscape Architects
Miracle Recreation helps bring creative designs to life with innovative, thrilling designs that make your outdoor project stand out and attract attention. Just browse our extensive catalog to see the variety of options that you can mix and match to create the perfect outdoor space that matches your project's needs and your vision. We can even help you design and build custom structures if that is what your project demands.
Our professionals have extensive experience in playground design landscape architecture — no challenge is too big for us. We've been in business for decades, and have the custom design experience to add value and excitement to your project.
Our professional approach is excellent for busy landscape architects, and our kids-first focus means you get a playground designed to support the way kids play. Since our founding in the 1920s, Miracle Recreation has been known for bringing unique, innovative and thrilling play areas to communities and projects across the country. If your clients are looking for a play experience that's unique and delivers adrenaline-pumping play to your design, turn to us for expert help.
Miracle Recreation ensures you get high-quality equipment for your playground project. Every item has been tested for safety and is sturdily built to last for years in all types of weather, even with heavy use.
When you choose to work with us, we also deliver complete playground solutions from one convenient source. From playground shade structures to benches and picnic tables, we can provide more than playground equipment alone to help make your project a complete success.
Why Choose Miracle Playground Equipment?
At Miracle, we understand that quality and compliance are of the utmost importance when designing outdoor spaces. That's why we always build our playgrounds with three primary goals in mind. Our equipment is:
High-quality: We manufacture our playground equipment in our state-of-the-art production facility using safe, strong and durable materials.
Inclusive: We design our playground equipment with accessibility and inclusive for all in mind to make playgrounds as accessible as possible for kids with limited mobility.
Eco-friendly: Our management system is ISO 14001 certified, meaning our production processes are environmentally friendly and sustainable.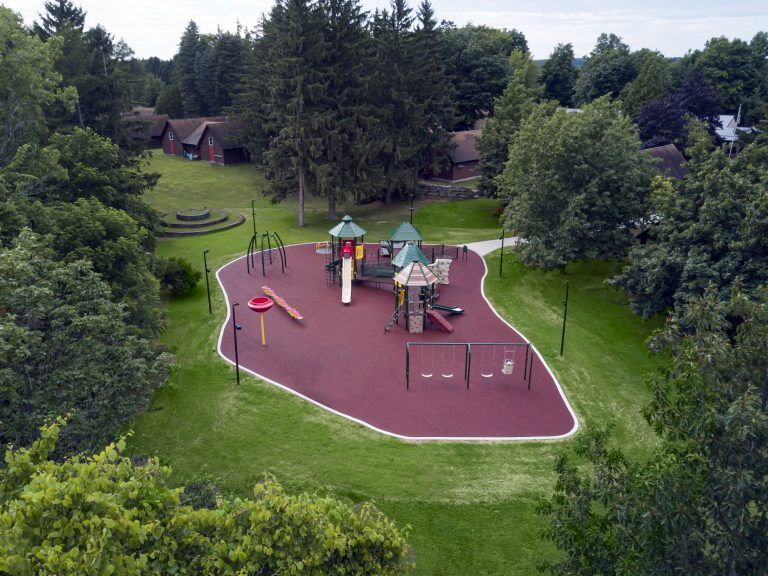 Contact Miracle Recreation
Our customization solutions and Custom Design Studio can help you develop any ideas you have, and make them a reality. If you're ready for a strong collaborative partnership with Miracle Recreation, a playground expert with decades of experience, contact a representative to discuss your plans. Our extensive selection of products ensures you have everything you need to complete your project, including playground equipment, site amenities, play shade and more.
Request a quote or browse our playground products today!
Find Your Representative