Perforated Sensory Panels provide extra visibility, and their textured, translucent shapes create a tactile experience and a delightful splash of color. Sensory Panels address the gap that caregivers, teachers, and special education professionals perceive in current playground equipment. Sensory Panels were developed to ensure that children with sensory impairments have playground equipment that encourages them to play, interact with peers and adults, and bring them in closer proximity to other kids. Sensory Panels are ground-level pieces of equipment, allowing parents, grandparents, and adults with disabilities to participate in play with their children. Use Sensory Panels as a maze, entrance, on a structure and more!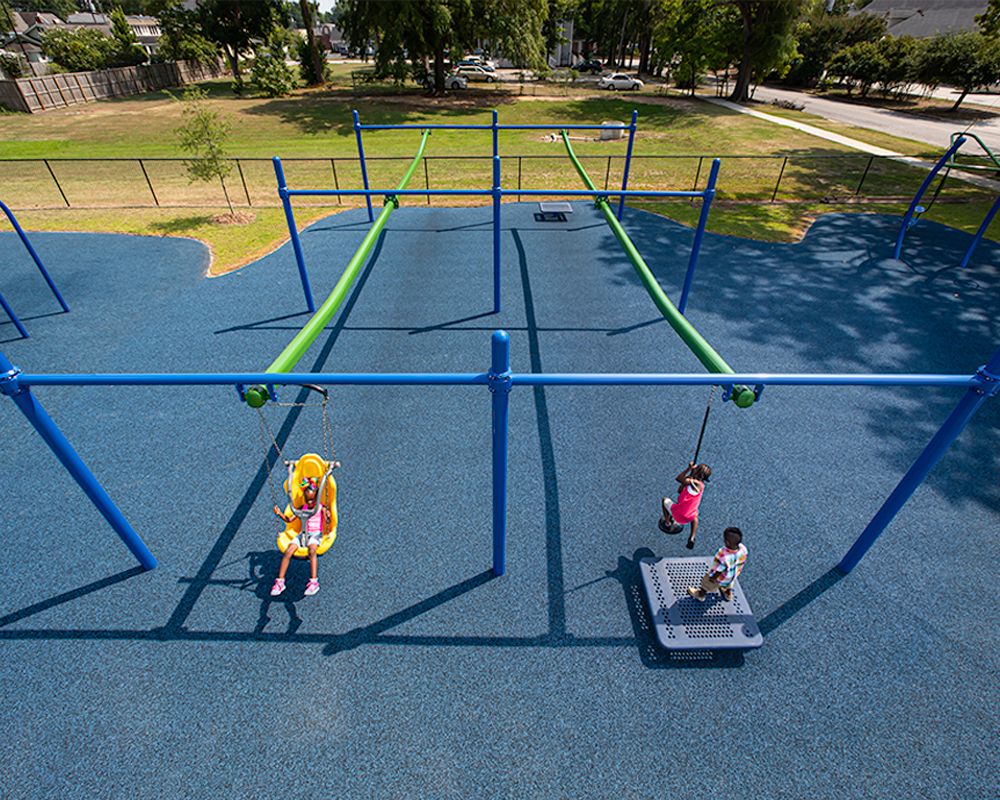 Part swing, part track ride, the GlideAlong provides a swift, smooth glide back and forth suspended along an overhead rail. Each bay seats one rider on either a standard disc-style or an Inclusive Swing Seat.
Concerto is a line of outdoor musical equipment that lets kids of all abilities share the joy and benefits of creating music. Each instrument is designed to be played at angles and heights that are comfortable and accessible to all kids, including those with mobility devices. Concerto musical instruments are an easy way to bring inclusive play to any playground.
Your community will be drawn to these fun climbers that bring animals and nature elements to any playground. From water frogs to butterfly meadows, you will find solutions that work with your playground design. These are designed for children ages 2 through 12, but are sure to charm visitors of all ages.
In a world looking for sustainability, Recycled Plastic Site Furnishings are an eco superstar. Constructed with PolyTuf plastic lumber custom-extruded from recycled plastics, these benches, picnic tables, and receptacles are long-lasting and low-maintenance. They don't have the drawbacks of real wood, such as fading, insects, cracking, and splintering.
Unlike most wood and wood-composite products that quickly fade when exposed to the weather, the PolyTuf surfaces have no wood fibers, so they retain their vibrant look for years. In addition, they don't need waterproofing, staining, or any maintenance other than an occasional washing with soap and water.