Shaping the Future of Play®
Since 1927, Miracle Recreation® has been at the forefront of innovation, design and playground safety catered to kids of all ages and abilities. We customize commercial-grade playground systems to fit your needs. Whether you desire affordable equipment for a particular age group or theme or your space dimensions limit you, we are here to help. We also offer playground shade, site amenities, outdoor fitness equipment and first-in-the-industry playground elements. And we're just getting started!
Because every customer's budget needs and space requirements vary, we ensure our customizable play space solutions fit your landscape and equipment specifications. When designing a commercial playset, we know it's crucial to consider elements such as:
Our commercial playgrounds offer constant stimulation and learning opportunities for youth.
Funding Resources
Find Commercial Outdoor Playground Equipment
Build a Quote
We pride ourselves on providing the most thrilling outdoor play equipment available. Check out the Miracle Recreation® Gravity Rail and Extreme Generation — two first-in-the-industry playground elements! We also offer the longest slides in the industry and innovative outdoor playground equipment pieces, including: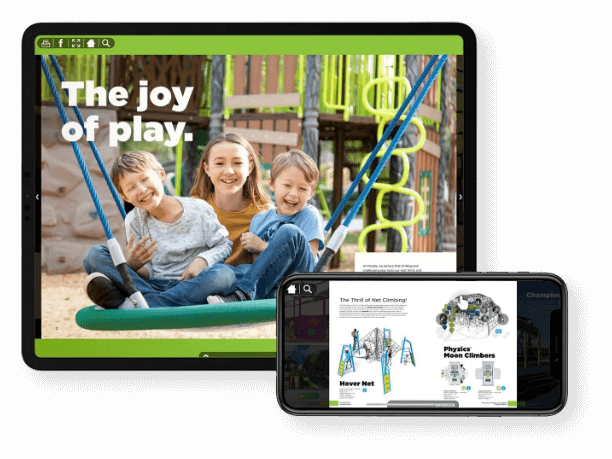 View Our Product Catalog!
Check out our product catalog to learn more about the new lines of playground equipment that we're offering to enhance your space!
View Catalog
Budget-Friendly Commercial Playground Components
Build a Quote
Looking for standalone play structures instead of an all-in-one play system? Miracle Recreation offers freestanding playground components to let you customize your play area to space and cost constraints or add new challenges to an existing playscape.
Miracle Recreation commercial-grade playgrounds allow you to take advantage of their many benefits, like a new sense of community and a safer place for kids to be active, while on a budget. You will have the ability to design a structure to fit your space requirements while working within your allocated playground funding. Our playground equipment offers accessibility, inclusivity and excitement to any park, church or place of worship, school or public area.
Shopping for components by category gives you the freedom to choose from a selection of configurations. Mix and match commercial playground designs or work one-on-one with a professional to find a solution to your needs. We offer customizable play components such as:
The Benefits of Choosing Miracle's Commercial-Grade Playground Equipment
Build a Quote
Riveting, durable commercial playground equipment for kids in your community is right around the corner! Our featured products demonstrate several creative benefits of playgrounds, like:
Shade: Although we want your kids to enjoy our thrilling outdoor playground equipment as much as possible, we understand the risks of prolonged sun exposure. We came up with a solution to help prevent sunburns and heat-related illnesses — shade! Our shade features can protect kids from weather conditions while keeping them safe and happy.
Site amenities: Our modern playset amenities include slides, soccer nets, tether balls, benches, basketball hoops and more.
Outdoor fitness: Our outdoor workout equipment and training systems accommodate users of all ages — including toddlers, adolescents and adults. No matter the intensity of your workout or fitness routine, our outdoor fitness equipment can meet your needs.
Custom capabilities: Our team of innovative designers is happy to help you design a unique experience for your kids. Together, we'll create a stimulating commercial playset that will keep your kids and families coming back for more.
Inclusive: At Miracle Recreation, we believe every kid should have the opportunity to experience a high level of engagement, stimulation and challenge. Our "Playgrounds for All" inclusive playgrounds offer many sensory and accessibility benefits to all kids.
Themed playscapes: Our themed industrial playground components inspire imaginative play and creativity. Kids love our castle theme, which features enchanting crawl spaces and thrilling obstacles. Nature and marine themes are also popular choices.
Equipment tailored to age: We tailor our commercial playsets to create an engaging, stimulating experience for kids ages 2 through 12 while meeting the highest safety standards. For decades, we have helped early childhood centers, churches and places of worship, parks and community playgrounds design the right commercial play spaces for their needs. For kids between age 5 and 12, you can find more innovative approaches to encourage prolonged engagement, challenge and learning opportunities.
Promotions: We offer promotions throughout the year for parks, schools, housing audiences and more in the US.
Color options: Choose from a multitude of smooth and textured color options for industrial components like plastic, powder-coated painted metal, anti-microbial painted metal, panels, swing seats, play shades and fire-retardant fabrics. Our color theme options inspire creativity and innovation.