Maintenance Tips for School Playgrounds
(Last Updated On: February 24, 2021)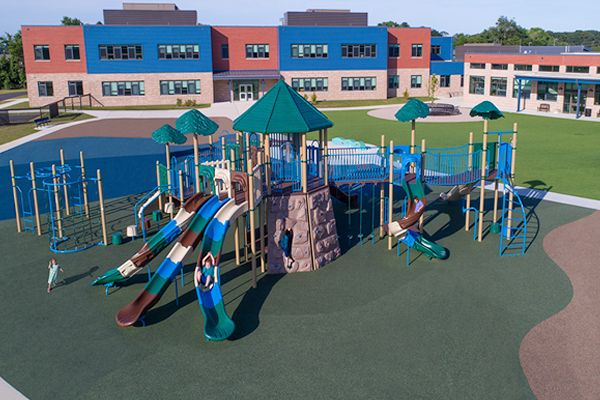 Every school should review maintenance tips for school playgrounds with staff regularly. In order to ensure that children stay safe and are are able to continue playing, proper maintenance of your equipment and the surrounding area is important.
How to Maintain a School Playground
Use these playground maintenance tips to keep your school play space safe, attractive and lasting for years:
Decide who will be responsible for maintenance. Maintaining a school playground is only possible if it's clear who will be checking for issues and doing the maintaining. Designate a committee or hire a service, but look for individuals who are local and who can check in often. Make sure the people tasked with maintenance have the proper training and knowledge of how to keep up your playground equipment.
Have equipment installed and inspected by a certified professional. Especially if your playground is older, get certified professionals to attest to the safety of each piece of equipment. Have them confirm that there is enough space around each piece of equipment and that everything is installed correctly. Get professionals to check whether current safety standards are met and have them pay attention to surfacing in particular, which tends to need replacing and maintenance before larger pieces of equipment do.
Install a fence and protective barrier. School playground equipment is for the students, and you want to ensure no one is using the play equipment off-hours and potentially causing damage. Installing a fence, gate and other protective barriers, or even an alarm system, helps you reduce maintenance tasks related to graffiti, vandalism and incorrect use of your playground.
Create a written schedule of visual inspections. Have the playground inspected often. Even a quick check every morning before students arrive is a good idea. Whenever someone inspects your play area, make sure they sign off so you can see when inspections took place.
Set up a system for reports. Do teachers, parents and students know how to report any problems with play equipment? Do you have a central system to collect this information so you can fix any problems fast and close down the playground immediately until repairs can be made? Take the time to set up this kind of system for the sake of child safety.
Read the manuals. Check the instruction and maintenance manuals which came with your equipment to understand exactly what maintenance you should be performing and when.
Install shades structures. Canopies and shade structures reduce UV damage, which can help cut down on some maintenance (such as paint fading from the sun) and can thus help your investment last longer.
Understand local weather. If you live in a wetter climate, you may need to treat wood structures to ensure they do not rot, or opt for metal alternatives. If you live in a climate with harsh winters, clearing ice and snow off the equipment can prevent collapse, and closing the playground when conditions are slippery keeps everyone safe.
If you want quality and thrilling play equipment that is easy to maintain, contact Miracle® Recreation for a quote. We are experts in play, and when you purchase from us, our team would be happy to explain playground maintenance options and best practices with you.