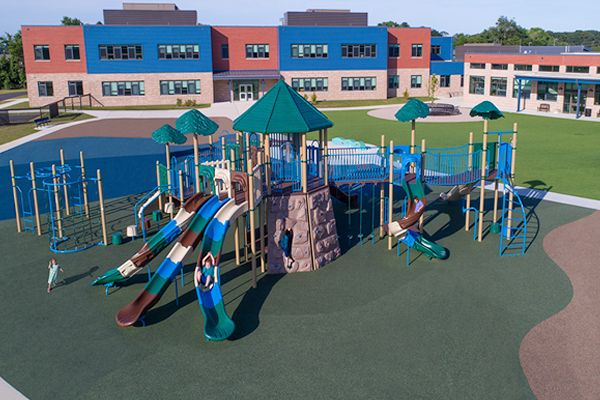 School Playground Equipment
For many kids, recess is the best part of their day. For others, it may be the only time they get to enjoy active play. At Miracle® Recreation Equipment Company, we understand the importance of play and learning to stimulate and challenge children. Since 1927, Miracle Recreation has been at the forefront of innovation and creative playground design for school-aged children. We strive to provide first-in-the-industry school playground structures that put learning and imaginative play first.
At Miracle Recreation, we design our school outdoor playground equipment for schools with safety standards in mind. This, along with our decades of experience, allows us to put safety first while giving kids thrilling, yet safe and secure options for them to explore and have fun. Our custom elementary school and middle school playground equipment fits all ages, terrains and budgets.
Start enhancing your school playground today! View our products and build a quote below!
Why Invest in Playground Equipment for Your Elementary School?
Outdoor play is one of the best ways to encourage healthy living for kids. Some children do not have access to outdoor play equipment once they go home. With the advent of new technologies like cell phones and video games, it can be hard to motivate kids to get outside and move around. At Miracle Recreation, we work with you to create an innovative, student-centered play experience to inspire kids to enjoy imagination and active play.
Playground equipment for elementary and middle schools offers several advantages for kids:
1. Provides Health Benefits
Outdoor play enhances physical, emotional and social well-being. Children should get at least 60 minutes of activity every day. Elementary school playground equipment inspires activity while encouraging socialization and exploration. Outdoor activity encourages unstructured play, too, which is more beneficial to children than indoor games. Children will be happier, healthier and more socially adapted the more time they are allowed unstructured play outdoors.
Other health benefits of outdoor play include greater exposure to sunlight, which is proven to elevate mood and attune kids to their natural sleep rhythms. It's also associated with reduced stress levels and a reduced risk of developing nearsightedness.
2. Increases Cognition and Performance
Increased outdoor play contributes to elevated levels of concentration, cognition and performance in elementary school children. Academic performance improves after outdoor play sessions due to increased blood flow to the brain. Exercise — especially outdoor fitness — builds brain cells in the hippocampus and is linked to memory and memory loss. Furthermore, increased physical activity can stimulate nerve growth factors, enhance creativity and increase reaction time in children.
3. Improves Executive Function
Executive function skills are responsible for the parts of our brain that negotiate, plan, multitask and balance priorities. Unstructured playtime is essential for children to build executive function skills. With these skills, they are better able to solve problems and get creative with how they want to spend their time, as well as who they want to spend it with.
4. Inspires Imaginative Play and Learning
Imaginative play is an excellent way for school-aged children to develop their self-expression and creativity. Storytellers can often trace their passion and talent back to imaginative play and outbursts of self-expression in their youth. At Miracle Recreation, we stimulate creative thinking in kids with our playground equipment and structures that come in a variety of fun themes.
Participating in unstructured exercise outdoors is also a great way for children to enhance their social skills, improve organizational skills and build their vocabulary. Children learn to take turns, listen and imagine different scenarios with their peers.
5. Strengthens an Appreciation for Nature
Outdoor play encourages children to experience nature through all their five senses — sight, hearing, smell, taste and touch. Whether they're digging in the soil, cradling a leaf or flower in their hand, observing a stream or looking at the horizon, hands-on outdoor learning cultivates peace, happiness and an intrinsic appreciation for nature.
Why Choose Miracle for Your School Outdoor Playground Equipment?
Miracle Recreation offers school playground sets that are unparalleled in the industry. Whether you're looking for freestanding equipment or structural components, or want to add on to an existing playground site, Miracle is the playground company for you!
Our professionals work one-on-one with you to customize your vision. Whether you want to tailor your play space to certain ages or themes or are looking for specific color options, we are here to help you design and budget wisely.
Miracle Recreation provides the following options:
Thrilling, first-in-the-industry play equipment for schools: Our Extreme Generation (XGEN®) and Miracle Gravity Rail® play structures create the ideal combination of challenge, fun and stimulation.
Amenities: We offer add-on equipment for existing school playground sites, including basketball hoops, soccer nets, tetherball poles and much more.
Shade: Although we want to encourage sunlight and quality outdoor play options for kids, we don't want them to get too much sun! We have a variety of playground shade structures that kids can enjoy in the outdoors no matter the weather.
Outdoor fitness: We work with you to customize structural components to fit your needs. Our outdoor fitness equipment can be tailored to kids as young as five, though children as old as 12 can benefit from the challenges and thrills as well.
Playgrounds for all: Our Playgrounds for All are inclusive play spaces for children of all ability levels. We offer playground equipment with sensory benefits that can provide challenge and fun for everyone!
Ready to start your school playground project? Browse all our products and build a quote today!
Request a Quote for School Play Equipment Today!
At Miracle Recreation, playground safety standards are our top priority with our products. Our playground structures are durable, ADA-compliant, and environmentally friendly. Schools everywhere are seeing the benefits and "Wow Factor" of our playground solutions, as seen in our customer testimonials.
If this playground planning guide has inspired you to take the next step and get a school playground project started, we are here to help. Contact us today and a representative from our team can help you turn your playground project into a reality.
Learn More About Miracle Recreation Products
If you're interested in outdoor play equipment for schools but have a budget, Miracle Recreation can help you find fundraising and financing options for school playground projects. We have helped many schools support their children with great places for play, and we can help your school, too. You can check out some of our latest products in our product catalog below to get your project ideas started!
View Our Product Catalog