Replacement Miracle Playground Installed at Joplin's Cunningham Park to Mark One Year Anniversary of Joplin Tornado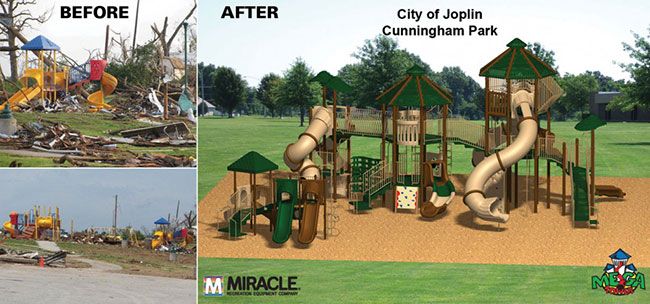 Joplin's Cunningham Park suffered severe damage as a result of the devastating EF5 tornado on May 22, 2011.  Located directly across from the former site of the badly damaged St. John's Hospital, Cunningham Park featured two Miracle Recreation playgrounds, both of which were destroyed.  Nearly a year later and during the week of May 7th, Miracle Recreation installed replacement playgrounds with the help of volunteers and Miracle Recreation employees.
Located just over 40 miles from Joplin, Miracle Recreation's manufacturing facility and offices employ many Joplin residents.  Several employees and their families were personally affected by the tornado.  "Our employees were deeply affected by the Joplin tragedy and it was important to us as a company and as a member of the community to help with the rebuilding process," added Don Hemingway, Vice President of Business Development for Miracle Recreation's parent company, PlayPower, Inc.  Immediately following the disaster in Joplin, Miracle Recreation implemented a "Playgrounds 4 Joplin" program, which generated a $25,000 contribution towards the replacement playground.
Proceeds for the purchase of the replacement playgrounds were provided by the City of Joplin and by Miracle Recreation through its $25,000 donation.  A local Miracle Recreation certified installation company and approximately 50 Miracle Recreation employees donated their time and services to install the playground equipment.  Additionally, Sam's Club®donated bottled water, and SubwayTM provided lunch to the installation crew and volunteers during each day of construction.
The new playgrounds at Cunningham Park feature Miracle Recreation's exclusive nature-themed Mega Tower® structure with 2-story towers and large twisting slides for children ages 5-12, and a smaller Tot's Choice® structure for children ages 2 to 5.  Whereas the original playground equipment had capacity for only 80 children, the new playground structures are much larger and can accommodate up to 190 children.
Cunningham Park and the surrounding areas were the epicenter of the devastating damage in Joplin, making the revitalization and re-dedication of the park that much more important to the community. Miracle Recreation is honored to assist the City of Joplin, and excited and happy for its residents and visitors.
The official grand opening for the new playground at Cunningham Park will take place on May 22, 2012, as a part of the "Walk of Unity" event planned in observance of the first anniversary of the deadly tornado.  The walk will end at Cunningham Park with a special ceremony and a moment of silence to honor the victims of the tornado.