Product Description
Balance and coordination are essential aspects of kids' development. You can promote activities that strengthen these components by providing balancing playground equipment. Miracle® Recreation offers many playground attractions that fulfill kids' coordination needs while giving them a fun playtime experience.
Ensure all kids can join in on the fun at your park by installing inclusive playground equipment such as Reflex. Reflex offers a fun balance challenge for kids of all ages and abilities and allows them to engage in valuable sensory play as the seat rises and descends.
This structure helps develop the vestibular system, which affects kids' perceptions of their bodies in relation to their environment. Playing on Reflex playground equipment can boost kids' balance skills from a young age. Its open, accessible design enables parents and caregivers to easily reach their kids and provide additional support as they play.
With room for up to 15 kids at once, this playground feature is ideal for encouraging kids to develop social and emotional skills through meaningful, shared play experiences. It also promotes cooperative play, empowering kids to work together to move the structure up and down.
Sensory Play
Sensory play is crucial to every child's development and growth. This product provides the following sensory play experiences: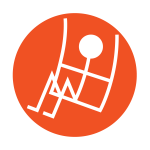 Vestibular
This system explains the perception of our body in relation to gravity, movement, and balance