16 Fun Activities to Do at a Park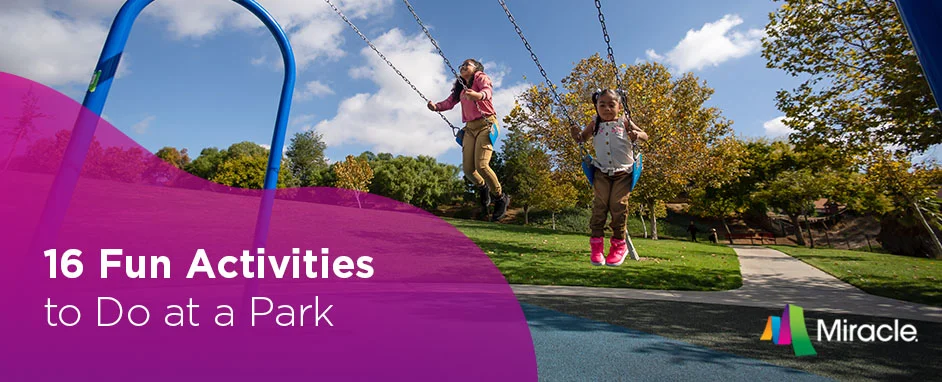 Parks are essential social and active spaces for communities. Providing many options for activities to do at the park can help keep people engaged in these important outdoor community spaces.
11 Fun Things to Play at the Park
If you are searching for fun activities to do at the park to draw more people to your park, consider some of the following ideas. These ideas can help you decide what you may want to include in your park if you're in the process of planning and designing a new play area.
1. Have a Picnic
Parks are excellent spaces where families and friends can gather to enjoy fresh air and scenery. Having open areas or furniture available encourages people to prepare and bring picnics to your park. Picnics are great social activities that people of all ages can enjoy and adapt to their wants.
People can settle in a grassy field with a blanket next to some natural scenery for a quiet, peaceful afternoon, or they can sit down at a picnic table in a more populated area with access to other park amenities. Many people seek parks for picnics because they are natural social gathering places. Adults can plan dates, teens can catch up with friends after school and families can introduce small children to a new activity.
When designing your park, consider adding spaces where people can easily set up picnics. Including quality picnic tables gives park visitors a place to easily sit and set up their picnics. Add to your park's natural scenery by placing picnic areas near lakes or streams or where trees provide a lot of natural shade.
2. Fly a Kite
Open spaces allow park visitors to engage in many activities while at your park. Kite flying is an iconic and staple park activity that parents can teach kids as a rite of passage. Kids can take turns trying to catch the breeze with their friends or siblings, creating an active, social activity. If many people participate in kite flying, everyone can admire all the different kite designs.
Creating open areas at your parks that visitors can use how they wish can help draw guests to your park for activities they might not be able to do in their backyards.
3. Hike a Trail
Many parks include hiking trails where visitors can explore the local ecosystems or exercise outdoors. When you provide various paths for visitors to choose from, they can select the one that best fits their difficulty level and length. Working your hiking trail through several natural fixtures, like lakes, streams and overlooks, can keep your trails exciting and attract visitors to use them.
Hiking trails are an excellent opportunity to interact with local flora and fauna. Visitors can use the trails to seek out local wildlife through bird-watching and other activities, or they can enjoy the time outside surrounded by greenery. Users can enjoy alone time in nature or enjoy the scenery with friends.
Spaces like hiking trails can adapt to visitors' needs. Visitors can use them for hiking or taking walks or bring their bikes for some added exercise. If your park allows animals, visitors can bring their dogs, so their pets can get exercise and enjoy the outdoors as well.
4. Hunt for Bugs
Interacting with wildlife in parks lets people learn about ecosystems. Many adults and children enjoy interacting with bugs, and the park is a space where many people feel safe and comfortable exploring the environment to find cool bugs. Visitors may look in the trees or under rocks to find bugs, whether they have a specific one in mind or want to see any bug.
When designing your parks, make areas safe for bugs and bug enthusiasts by creating spaces specifically for insects. Many parks include butterfly gardens where visitors can sit amongst the flowers and watch butterflies and other pollinators.
Some parks offer digital or physical guides of local wildlife visitors might encounter while at the park. If you want to enhance how your visitors interact with bugs and other wildlife, include information about insects so they can turn their time outdoors into a learning opportunity. Some visitors can even turn it into a challenge to find all the bugs included in your guide.
5. Host a Photo Contest
If you want to show off your park's beautiful natural features and promote your park, consider hosting a photo contest for visitors. Frequent and new visitors will explore your park, searching for the perfect location to take a picture to win the competition, potentially drawing visitors to parts of your park they've never been before.
As people submit their entries, post all the beautiful pictures of your park on your social media platform to draw attention to the different amenities and features you offer. Have a panel of judges pick which picture they like best or leave the voting up to online viewers, further engaging your digital audiences.
Create photo opportunities throughout your park to keep online audiences engaged. People love finding trademark signs or murals where they can take pictures with friends or family and post it online, drawing more attention to your park and the features you offer.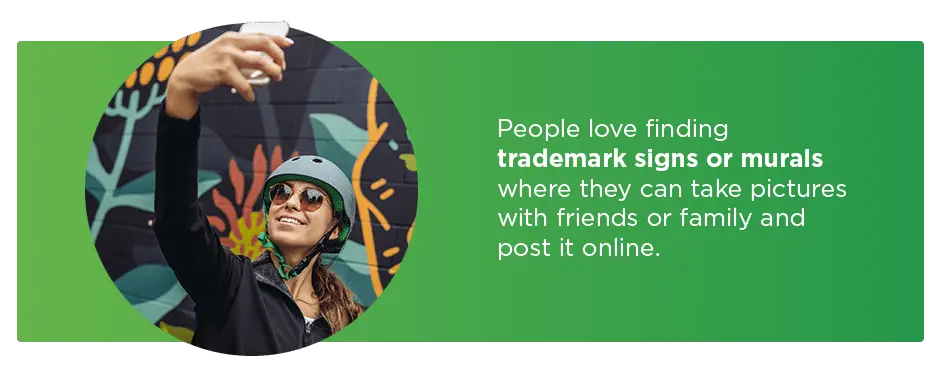 6. Complete a Scavenger Hunt
Parks are great places for kids and families to host scavenger hunts. Kids love looking for clues and the promise of discovering hidden treasure at the end. It creates an exciting outdoor activity that lets them enjoy the outdoors and nature. Parents can set up scavenger hunts themselves, or parks can host planned ones where park officials write hints and hide prizes throughout the park.
Many people love engaging in geocaching, where people try to locate boxes hidden all around the world through online clues and specific locations. Park visitors can hide their caches throughout your park, inviting other people interested in the activity to your park to try and find the box.
7. Learn a New Sport
Many families and kids come to your park to teach themselves a new sport. Open fields allow visitors to play group sports, including:
Soccer: Open fields are great places for kids and adults to play soccer together. Visitors can bring balls from home and use open spaces to create their boundaries, or you can provide goals. Soccer is an excellent sport for kids to play together to socialize and exercise, and using their legs to kick can help improve muscle coordination and overall dexterity.
Football: Like with soccer, visitors of all ages can come to your fields and play football. Football is a game people can play anywhere they have the space — all they need to do is determine where end zones are and how much of the field they are using. Visitors can also use different versions of football, like flag football, to better meet site needs or change the stakes.
Kickball: Another group sport that people can play is kickball. Because of bases, this game can be a great way to reuse baseball diamonds at your park. Visitors can also play this in other fields by using bases they brought from home or other markers they find around the park, testing their creativity and resourcefulness.
Flying discs: Flying discs are an excellent park activity because of their adaptability. Visitors can play with just a couple of people tossing a disc around, or they can divide larger groups into teams and play competitively. You can even add disc golf equipment to open areas. Flying discs are also popular with dog owners, encouraging them to bring their dogs to the park.
With open spaces, people can play with large groups and meet new people to play with them.
Parks often have other facilities available for visitors, including other sports amenities. Basketball, baseball and tennis courts provide additional opportunities for people to play the sports they love while getting fresh air and exercise at your parks. With athletic amenities available, people can learn a new sport with friends or family.
8. Use Sidewalk Chalk
While your park visitors can use the many amenities and facilities you have available to enhance their park experience, even features as simple as your streets and sidewalks can help entertain them. Visitors can bring sidewalk chalk to play staple outdoor games, like hopscotch. Kids love to use bright colors to express their creativity and draw whatever their hearts desire.
Visitors can use sidewalk chalk for various games, including:
Word games: Clear sidewalks provide visitors with the opportunity to play whatever comes to mind, including their favorite word games. Visitors can draw pictures on the pavement and guess which words their friends are thinking of, or children can try to make long lists of rhyming words. If they can write it, they can play it with chalk.
Tic-tac-toe: Another classic game kids and adults can bring to the sidewalk is tic-tac-toe. Kids can cover the pavement with endless rounds of tic-tac-toe. Because it is an easy game, kids of all ages will have fun participating. There are even strategies people can apply to ensure their wins.
Four square: Four square is a great ball game visitors can play after drawing squares on the pavement. This is a great group game where kids and adults interact with other park visitors and make new friends while exercising. People can enjoy the game for days since the chalk will remain until it rains.
If you have large paved areas, people may come to your park specifically to draw with chalk. Many artists select chalk as their medium, creating stunning public features for passersby to enjoy.
9. Jump Rope
Jumping rope is a great way to have fun in the park. Whether visitors choose to use jump-ropes as a group game with other children or as a form of exercise, jumping rope is a great way to enjoy the fresh air while getting some aerobic exercise.
Many games and songs accompany jumping rope that kids learn on the playground at school. Kids find the nonsense songs fun and entertaining, so they can last long periods jumping rope and chanting through different songs.
While only one or two kids can jump at a time, many kids gather to help swing the rope and sing the chant while others jump or watch and wait for their turn. It is an excellent opportunity for kids to learn patience and wait for their turn while at the park.
Parks are a great place for people to learn how to double Dutch. While many people already know how to jump rope, they may want to learn something new with a group of friends. Open paved spaces can provide people the opportunity to try their hand at something new.
10. Participate in Water Activities
Parks offer visitors many different types of amenities, including sports and water facilities. While visitors can work up a sweat on the various courts, they can cool off at one of the park's water attractions, like:
Swimming pool: Pools are great attractions to parks, giving people a space to cool down in the summer and hang out with friends. Local swim teams can host practices and swim meets in the mornings, bringing more visitors to explore your park grounds. People of all ages can use the pool to learn how to swim or strengthen their swimming skills.
Splash pads: For another alternative to water play, splash pads are areas where kids can play in fountains and escape the summer heat. Fountains are interactive, allowing kids to explore the water. As open spaces, they are available to kids of all ages to play and make new friends.
Lakes: Lakes are great public fixtures in parks that people can enjoy in many ways. Many people enjoy kayaking or canoeing on lakes to take in the water and fresh air. You may offer fishing areas or seasons at your park, so people can have a space to carry out that hobby. Lakes are great for learning new skills or continuing old favorites.
Streams: While streams are smaller than other bodies of water, they enhance hikes and spaces where people can observe natural wildlife. Streams are home to various creatures, including fish, frogs and bugs, and provide water sources to larger animals like deer and birds. People can enjoy the scenery streams add or explore their local ecosystem.
Ice skating: While most people associate water activities with the summer, you can add frozen water features to your park for fun winter activities. Include an outdoor ice skating rink to encourage people to get outside and move during the winter months to keep people active in the cold. If you do this annually, you can create yearly traditions or staples for your park.
Water features are a great way to enhance your park's aesthetic while providing visitors with multiple activities they can do throughout the seasons.
11. Attend Events and Festivals
Parks are crucial social gathering spots, and you can help increase social activity at your parks by hosting events. With many areas and grounds available, parks are excellent locations for festivals, fairs and other activities that bring the community together for fun and entertainment.
Some ideas include:
Holiday activities: Help make memorable events and yearly traditions by hosting holiday events at your park. Whether you hold Fourth of July parades and fireworks or Easter egg hunts, you can include activities for people of all ages to enjoy, drawing families and friends to your park each year.
Craft fairs and farmers markets: A great way to engage the local community is to reach out and display their skills. Hosting a yearly craft fair where local artists can display and sell their masterpieces can bring attention back to the community, while weekly or monthly farmers markets can introduce people to local vendors in their neighborhood.
Carnivals: Everyone looks forward to the carnival. With lots of games and displays, people will enjoy all the entertainment.
Regardless of what your park has in mind, hosting public events can draw members of your community to your park.
5 Activities to Do at the Playground
If you want to find new activities to do at the park, the playground is a great place to start. Playgrounds are spaces where kids can stay active and practice essential social and physical skills. Including a playground at your park can already inspire a lot of imaginative and active play, but here are some more ways you can use your playground equipment for added fun.
1. Create an Obstacle Course
If your playground has multiple structures and equipment located on the site, transform the space into an obstacle course for kids to work through. Kids will love the change in scenery and trying to work through the obstacles you and your teams develop.
Obstacle courses can help kids develop their motor skills as they work through the equipment, practicing their coordination and muscle movements. Obstacles can vary in difficulty to cater to different ages, starting with something simple for younger kids and more complex obstacles for older ones.
2. Complete a Fitness Challenge
While many people target playground equipment for kids, adults can use playgrounds with outdoor fitness equipment to complete exercises. Kids use playtime to stay active, keeping their bodies and minds healthy, but adults can use equipment like benches and bars for various endurance and strength exercises.
Encourage exercise at your playground by advertising fitness challenges motivating people to take part and reach their fitness goals with your steps. Signs and steps around your playground can help instruct adults on using the equipment for exercise.
3. Host a Play
Since play equipment rises above the ground, allowing people to see from various standpoints, you can transform them into a stage for a night and host a play. Your play can feature adult actors who put weeks of work and care into their performance or put on a children's show to highlight the kids' talents.
Regardless of how you approach this event, you can host a fun evening at a unique venue that families and other visitors will surely remember and cherish.
4. Play Hide and Seek
You can use playground equipment to host large-scale games for all kids to participate in. Hide and seek is a classic kid's game. Invite kids to play hide and seek in your park with the playground as one of the options. Kids can use equipment and surrounding scenery as spaces to hide. Just be sure to establish clear boundaries when advertising your game.
5. Meet New People
Playgrounds are critical social fixtures in communities, where kids and families gather to meet other people in the area. You can use playgrounds as locations for meet-and-greet events, inviting new families to come and discover places where their kids can play and potentially meet new friends.
Explore Innovative Playground Ideas From Miracle® Recreation
If you are designing a new park or playground, you can include many fun activities on your grounds to keep the community engaged with your park's features and facilities.
At Miracle Recreation, we design innovative and inclusive playground equipment to foster play spaces where everyone is welcome and can play together. We understand the importance of playgrounds as social and active areas, and we create fun equipment where the community will want to continue to gather. We can offer more customized approaches with themes so your playground fits seamlessly into your park.