Product Description
The Alta Glide Inclusive Glider from Miracle® Recreation gives kids of all ages and abilities the opportunity to join in on the fun at the playground. This wheelchair-accessible glider ensures there's room for everyone with the option to sit on one of the two benches or stand in the middle.
Kids of all ages will be drawn to the fun, unique motions of this Alta Glide wheelchair-accessible playground equipment. Include this attraction in your park or playground to expand your audience and provide exciting activities that kids of all abilities and backgrounds can access.
The Alta Glide Inclusive Glider has an accessible moving platform for children to ride on while surrounded by sturdy guard walls. This equipment enables wheelchair users to roll directly onto the platform without transferring out of their chairs, offering one of the only playground movement experiences of its kind. With a 10-person capacity, the Alta Glide glider fosters social and emotional development through interactive play.
The push-pull motion of this glider helps kids build balance, coordination, muscle tone and eye-tracking skills. It also engages kids in sensory play necessary for development and growth. This glider promotes vestibular growth, allowing kids to build a stronger perception of their bodies in relation to gravity, balance and movement. Encourage productive playtime experiences for all by adding the Alta Glide to your playground lineup.
Sensory Play
Sensory play is crucial to every child's development and growth. This product provides the following sensory play experiences: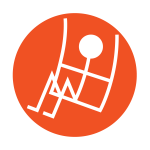 Vestibular
This system explains the perception of our body in relation to gravity, movement, and balance