Product Description
This snug, supportive seat offers all children a high-flying ride while helping them coordinate head and eye movements, stay upright against gravity, develop balance equilibrium and coordinate actions on the right and left sides of the body. A 3-Point Harness is sold separately.
Swing sets are one of the most iconic playground features. Many kids love the thrill of soaring into the sky from the safety of their swing. Now everyone can join in on the fun of this favorite playground experience regardless of their abilities or needs with the Inclusive Swing Seat from Miracle® Recreation. The inclusive swing set offers a secure seat and the ability to attach a harness when needed to provide a safe swinging experience for all.
Swinging gives kids of all abilities the opportunity to engage in valuable sensory play. Sturdy chains attach to the adaptive outdoor swing seat at four different points and securely adhere to the swing set in two places for added protection. Our swings are compatible with a 3-point harness, sold separately.
The Inclusive Swing Seat can help kids build essential sensory skills through a fun, exciting playground activity. Swings from Miracle help kids coordinate head and eye movements and foster a more enjoyable, secure play experience.
Kids can experience vestibular sensory play in a safe environment with this inclusive swing set. The vestibular system relates to how the body is positioned in regards to movement, gravity and balance. Using an inclusive swing seat helps kids stay upright against gravity, allowing them to develop stronger balance, equilibrium and coordination.
Sensory Play
Sensory play is crucial to every child's development and growth. This product provides the following sensory play experiences: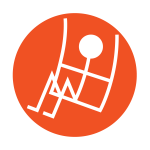 Vestibular
This system explains the perception of our body in relation to gravity, movement, and balance