Product Description
One of the most popular playground attractions is a classic slide. This twist on the standard slide from Miracle® Recreation will become a fast favorite of kids at your playground. Kids can enjoy the excitement of pushing themselves into the straight tube and sliding to the ground.
The tube slide is a playground staple that can elevate any space. Its distinct look will attract kids from all over and keep them coming back to your play area again and again.
This tube slide has a 30-inch diameter, so kids of all ages and sizes can enjoy the thrill of sliding down this attraction at your play area. Its unique appearance will help your playground stand out from the rest and the durable materials will ensure that this piece of equipment lasts for years to come.
The straight tube slide also allows children to engage in sensory play, which is essential for every child's development and growth. This slide provides a vestibular sensory play experience, which can improve kids' sense of balance and coordination.
Include a tube slide in your playground to encourage active play and promote stronger social and emotional development in kids.
Start building your playground experience with a tube slide for sale from Miracle. You can contact us and request a quote online today.
Sensory Play
Sensory play is crucial to every child's development and growth. This product provides the following sensory play experiences: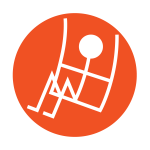 Vestibular
This system explains the perception of our body in relation to gravity, movement, and balance