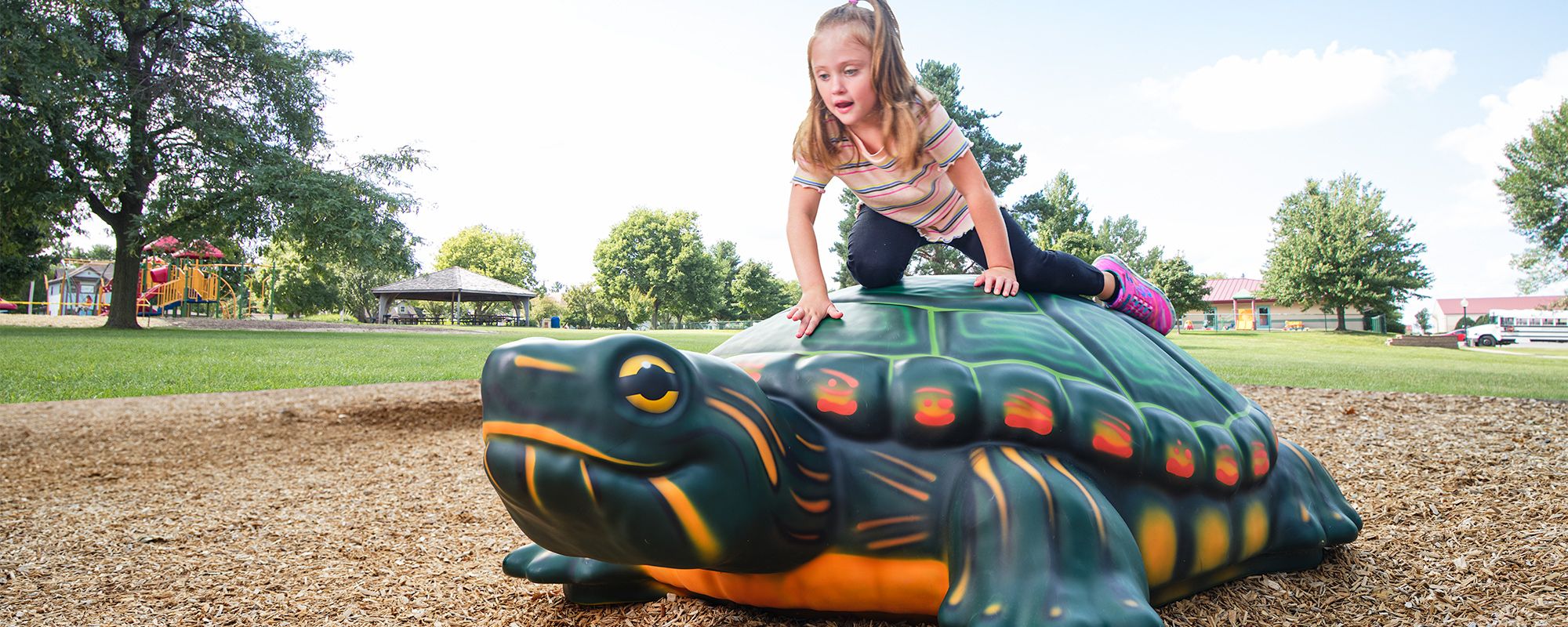 Since 1927, Miracle® Recreation has understood the importance of outdoor play spaces and playgrounds. Over the years, we've been creating innovative designs and developing playground equipment for school-aged kids.
Our playground designs such as caterpillar, turtle, ladybug and jungle animal equipment bring the thrill back to outdoor spaces and shape the future of play. Our sculpted play elements are unique structures that can fit a range of facilities, environments and budgets. With options ranging from coral reef climbers to alligators, we'll help you create a safe and thrilling playground that kids of all ages will love.
Sculpted Play Elements
Most kids have an interest in and a love for animals. From black bears in a forest to pufferfish swimming deep in the ocean, our sculpted play elements will complement your playground design and capture the interest of kids of all ages. 
These products are made of GFRP (Glass Fiber Reinforced Plastic), which is much lighter and friendlier to the touch than GFRC (Glass Fiber Reinforced Concrete) products. Less weight means they are easier to install and less costly to ship.
Benefits of Including Animals in Your Playground Design
Whether you are reconfiguring a current playground or preparing to design a brand new one, there are several benefits of including animal playground equipment like turtles and ladybugs in your plan. These eye-catching animals will encourage kids to:
Get outside and be active: Given today's indoor distractions and electronics, it can be hard to encourage kids to get outside and move around. An innovative and visually appealing playground filled with caterpillar equipment, for example, will grab their attention. Playground animals help get kids outdoors and enjoying the fresh air and sunshine, which can enhance their health and overall well-being.
Socialize and take part in imaginative play: Because of how realistic our playground animals look, kids of all ages will be able to let their imagination and self-expression run wild. Whether they are pretending to be a zookeeper or go on a safari adventure, they'll be able to socialize and play together while stimulating their imagination.
Take part in hands-on learning: Hands-on learning encourages a deeper understanding of and passion for a variety of topics. Kids can learn a great deal about nature and biology by exploring the outdoors and learning more about the animals they are playing with on the playground.
High-Quality Playground Equipment You Can Count On
Our jungle playground equipment is constructed out of GFRP, which makes our sculpted play elements lighter and more friendly to the touch. This material delivers several additional benefits, including:
GFRP has a very high strength-to-weight ratio, with tensile strength similar to steel
Low weights per square foot mean faster installation and lower shipping costs for you
Our UV-resistant materials withstand the sun's harsh rays
Non-porous construction prevents freeze and thaw cracking as compared to similar concrete products
Playground Animals for Any Space
Our playground animals can easily be adapted for a range of facilities and outdoor spaces, including:
Parks and recreation
Schools
Daycares
Churches
Urban environments
Neighborhoods and HOAs
When designing new playground animals for your space, our team will work with you and take into consideration everything from the location of your desired playground to input from any stakeholders. Whether you want to make a statement or encourage active play in your community, we can help you achieve your goals.
Our Promise
Regardless of which playground animals you choose, we promise that each one will be:
Budget-friendly: We make it simple to invest in imaginative playground equipment. With fair pricing and partnerships that can provide eligible buyers with financial support, we'll work closely with you to find equipment that fits within your budget.
Top-quality: Our entire collection of playground animals has been designed by the experts. Our extensive playground design experience — combined with the high-quality materials we use to create our play elements — ensures each animal is long-lasting and delivers a great return on your investment.
Safe: Miracle Recreation is dedicated to providing kids with age-appropriate playground equipment. We meet or exceed safety performance specifications from CPSC, CSA, ASTM International and EN. We also test each product thoroughly before it arrives at your playground.
Durable: Regardless of the environment where you place your playground animals, we've designed our animal play elements to be durable and withstand any weather conditions. You can leave our playground animals in place and expect them to stay fully functioning year after year.
Helping You Design the Perfect Playground Equipment
The team at Miracle Recreation is here to bring your playground vision to life. We'll work one-on-one with you to design a playground that fits your space, budget and needs. You'll be able to easily design themed playgrounds as well as choose from a wide range of colors to customize the look of your animals. With your new visually appealing playground, you can attract families to your play area and encourage kids to stay active and imaginative.
Request a Quote and Start Building an Animal Playground Today
If you have any questions or would like to request a quote for your animal-themed playground equipment, give us a call at 888-458-2752 or contact your local representative. Our team is experienced and knowledgeable and ready to help you get started!