Autism Playground Equipment Design Considerations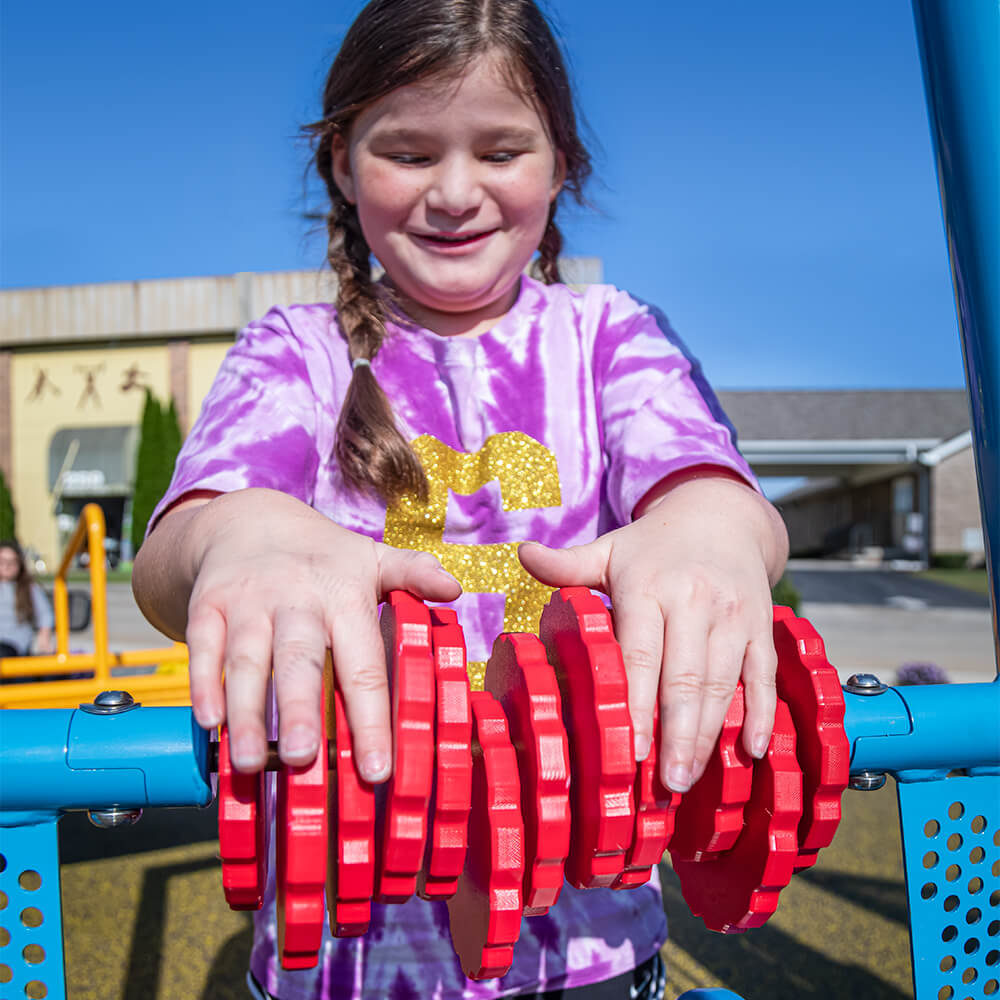 How can a playground make a difference for a child with Autism Spectrum Disorder (ASD)? Play matters for everyone, including kids on the autism spectrum. Small playground design decisions can mean the difference between including or excluding those children.
Autism is complex. Some children with autism seek sensory experiences and others avoid them. Some are non-verbal , while others have no problem speaking. Children with autism may have a difficult time socializing and rarely interact successfully with other children in free play situations without a great deal of work. These children may also have Sensory Processing Disorder, which changes the nature and strength of the sensory signals they receive. As a result, they may have trouble with balance and understanding where their body exists in any given environment.
The playground is the perfect place to practice different skills and experiences, from learning social skills to to learning how the body reacts to various heights and speeds. These experiences may not be easy to for a child with autism and they're often in therapy to learn to deal with a variety of inputs. The playground offers them a fun place to follow up from all the therapy.
The playground can be a space to better understand one's own ability to tolerate input and regulate it, and to practice socialization. However, not all playgrounds are created equal when it comes to children with autism. Here are some things to look for in a play space that was designed with ALL children in mind, including those with autism:
Fence your Playground
According to the Interactive Autism Network Research Report: Elopement and Wandering (2011), 48%, of children with ASD attempt to elope from a safe environment, a rate nearly four times higher than their unaffected siblings. Parents report that wandering and elopement are the most stressful of ASD behaviors. Many families who are raising a child with autism won't go to a playground unless it has a fence.
Surround the Playground with a Path
An orientation path gives children a level of control. They can walk around the entire playground and see what's happening. Where is it the loudest? Where it is the busiest? Where are the quiet places? Where is my favorite thing to do? Once they observe the situation, they can determine where they feel comfortable playing. It may be different each time they go to the playground. After playing, they may choose to head back to the path to regroup and figure out where they want to go next.
Make the Playground Sensory-Rich
Wondering how to create sensory playground equipment for children with autism? Include opportunities for children to use their tactile, auditory, and visual sensory systems by adding many different textures, sounds, and things to look at. These might include our Sensory Maze (shown above), Concerto musical instruments, play panels, or roller slides. Also include opportunities for children to work on their vestibular and proprioceptive systems by spinning, swinging, jumping, climbing, and hanging.
Learn More About Our Sensory Playground Equipment
Provide Quiet and Cozy Spaces
For children who might get overwhelmed in a busy playground, provide a quiet space away from the noise for a child to regroup.
Include Many Balancing Activities
Children with autism often have trouble with balance. Provide a wide range of balancing challenges. Think about combining static balancing activities with dynamic activities as well as activities that are working on balancing while standing vs while sitting.
Use Sanitary Surfacing
A smooth flat surface is easier for someone with balancing issues to manage. Parents have also reported that they don't like to go to the playgrounds with engineered wood fiber as their children sometimes play with it and often put it in their mouths.
Provide a Variety of Social Interaction Opportunities
Children with autism may be anywhere on Parten's stages of play. Some may only be interested in on-looker play, while others want to play alone or side-by-side with other children. The highest stage of social play is cooperative play, which is often more difficult for children with autism. By ensuring there are places for all these types of play, from solitary play to parallel play to cooperative play, we're meeting the child where they are.
Use Your Playground's Website as an Introduction
Children with autism don't like surprises. By providing photographs, drawings, and other information on the website, a family can prepare for their trip to the playground.
Building Inclusive Playgrounds
If you're looking to make your playground more inclusive, the experts and Miracle Recreation can help. Contact us today to discuss your needs and schedule a design consultation for autism playground equipment. We have plenty of inclusive equipment options to choose from. Get the process started today!