Playground Fundraising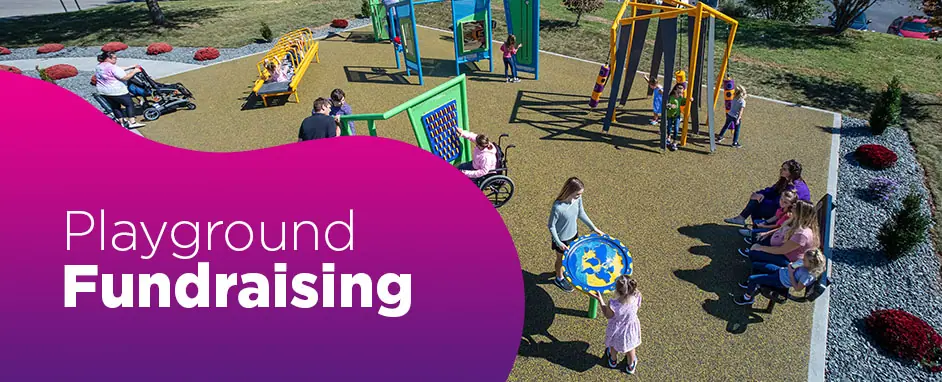 Play areas can provide many benefits to your community, including building better social skills and physical strength in kids. Your community will appreciate having someplace to gather where their kids can play together. With budgeting and fundraising, you can make this project a reality and allow families in your community or students at your school to enjoy a space where they can learn, exercise and have fun.
Read the full article or jump to a specific section:
How to Raise Money for Playgrounds
When planning to install a new playground in your community, you may not know how to raise money for playgrounds. Follow these steps to guide you through the fundraising process so you can bring your playground to your community efficiently and easily.
1. Gather Your Fundraising Team
To best prepare for your playground fundraiser, you will need a good team of dedicated individuals who can help make and carry out plans. When creating your team and splitting them into committees, diversify your teams to spread out strengths for better efficiency.
2. Establish a Budget
As you begin to prepare for your new playground, you will need to create a budget. Your project's cost will depend on the scope and the equipment you plan to purchase. Generally, your budget should account for:
Site preparations: If you're replacing an old playground with new equipment, this may be a more affordable project than creating a playground from scratch. For a new playground installation, you may need to start with site preparations, such as leveling the terrain or adding surfacing. If you're replacing old play space, you'll need to budget for taking down old equipment.
Equipment: The playground equipment itself is one of the major costs and is often what you'll want to focus on in your fundraising efforts. Plan to purchase quality play equipment that is durable, safe and designed with inclusivity in mind.
Amenities: In addition to playground equipment, you'll also want to consider site amenities for your playground, like benches, basketball hoops, litter receptacles, signs, picnic tables and other features.
Installation: Installing the equipment and amenities at your playground can carry an additional cost. Professional installation is generally a smart move since it ensures your playground equipment is safely and expertly positioned and anchored.
Maintenance: After your playground is installed, you'll have ongoing costs to keep the playground well maintained. To save on costs, you may be able to get volunteers to help keep the playground clean and safe.
Additionally, you will want to establish any costs necessary to carry out your fundraiser, like supplies and equipment. Setting a clear budget will help establish fundraiser goals, as well as any limitations for fundraising.
3. Develop a Clear Plan with a Timeline
After you clearly outline your budget for your team and determine how much you will need to raise, you need to plan how you will raise that money. Your teams can then plan events that will target your community and best interest them. Creating a timeline of events and goals will help you best share your plans with the community so they can understand when to expect the playground and what they need to do to make that happen.
4. Determine Marketing Measures and a Thank-You System
Before you can put your plans into action, you will need to create any promotional material to share information with the public. Whether these are posters, emails or advertisements, use marketing materials to draw attention to your fundraiser. These materials should drum up enthusiasm about the playground and give donors a good reason to contribute.
Some areas you can emphasize include:
How fun and rewarding it can be to design and build a playground.
The value it will bring to your community or how it might attract new residents.
How the playground can contribute to ongoing efforts to improve public spaces.
The reach of your new playground, like how many families will live in its vicinity.
How the playground might support community and family goals like encouraging play, creating an inclusive space or introducing social opportunities.
As you determine how to best reach your community, you should also establish a system to thank donors for their contributions. Expressing your gratitude will make your donors feel good and appreciated for their efforts.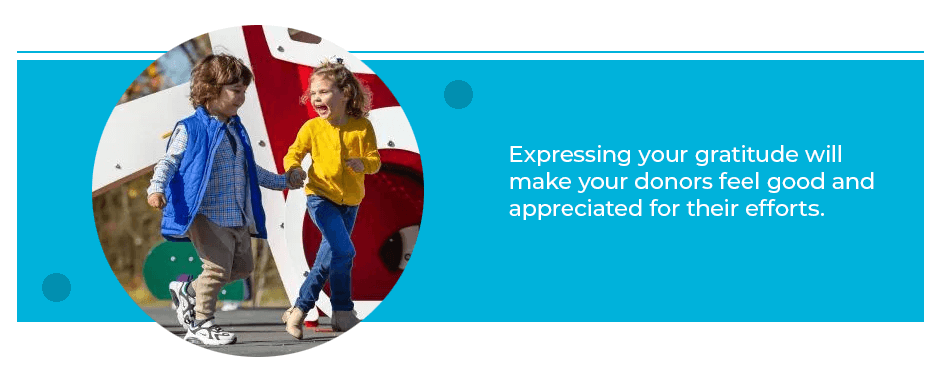 How to Raise Money for a School Playground
Schools have some special considerations when it comes to playground funding. On the upside, schools may be able to evaluate their budgets to see whether there are funds they can allocate to a playground project. In many cases, this may be a good place to start, but your school may need to raise additional funds to fully cover the costs of the project.
When planning fundraising efforts, get your Parent Teacher Association (PTA) involved. An active PTA can get excited about the benefits students will experience from a new playground and organize efforts to fund this project. The more buy-in you can get among stakeholders across the school community, the higher chance of success your project has.
Playground Fundraising Ideas
Whether you're planning to install a playground at your school, public park or private community, there are several ways you can help fund this project. Consider the following fundraising ideas for playground equipment and other costs so you can make this dream a reality for your community.
1. Approach Local Businesses
Local businesses can be a great resource for funding. While businesses of any size often donate a portion of their profits, small local businesses give 250% more to nonprofits and causes in their community compared to larger businesses.
See if any local businesses want to sponsor your playground project, and offer a way to recognize their donation. This can be a win-win since it provides a potential boost in brand awareness and reputation for the business. For example, you might include donors' names on signs at the playground or plaques placed on benches or playground equipment.
2. Apply for Grants
Grants can be another avenue to explore. Charitable organizations may request grant applications to apply for funding. Another common source of grant funding is the government. Explore federal, state and local government funding opportunities and follow the guidelines provided as well as online resources to help you craft your grant application.
Generally, you want your grant application to lay out the "why" behind your project, highlighting the benefits that the community will experience. You should also show a level of detail and transparency that demonstrates your commitment to careful planning at every stage of this project.
3. Find Individual Donors
Sometimes, the best place to find funds is with the people who will be using the playground the most. Many people are happy to donate to a good cause, so try asking for help from individuals in the community. Some wealthy residents might be able to give large amounts, but a lot of small contributions can add up quickly, too.
This tactic can be especially effective if you offer some kind of recognition for their work, such as engraving their names on a plaque. You could also help people feel more involved with the project by attaching dollar amounts to building materials or playground components. People can "buy" a box of nails, some lumber or even a swing with their donations.
Individuals may also be able to "donate" their skills to your playground fundraiser by contributing in unique ways. A local lawyer might be willing to help with permits, or a special education teacher or physical therapist could lend expertise in creating an inclusive play space.
4. Host a Ticketed Event
Hosting fundraising events is another great strategy and can be an excellent way to get your local community involved. By hosting a ticketed event with a cover charge, you can be sure to bring in money for each attendee. You may be able to raise additional funds at the event through optional activities, sales or donations.
Examples of ticketed fundraising events include a:
Carnival
Talent show
Concert
Fun run
Gala
You may want to host multiple events appealing to different demographics in your community so you can increase community involvement and donations. For example, a 5K may appeal greatly to fitness enthusiasts, while a formal gala may be more attractive to some local philanthropists.
5. Hold a Sale or Auction
The good old-fashioned bake sale still earns its spot as a popular playground fundraiser idea. You can get the whole community involved by asking people to donate baked goods to be sold or auctioned off for your playground fund.
There are plenty of other types of sales you can host, too. Consider making one of your events an auction and asking local businesses and artists to donate items for the auction. People will enjoy the fact that they can give to a positive cause while purchasing an item to keep for themselves.
6. Sell Items Door-to-Door
You can also sell items door-to-door rather than through an event. This can be an effective way to widen your impact. Some popular items people in your community may want to buy include:
Coupon books for local businesses
Candy bars
Candles
Tote bags
Shirts
Flowers
Cookie dough
A simple option is to presell products and take down donors' information so you can deliver their products or have them shipped to them at a later date. Or, in the case of small items like coupon cards or books, you can hand off the item at the moment of the transaction.
There are nearly endless ways you can sell items for fundraising purposes. Many companies offer information and catalogs for charitable organizations on fundraising opportunities. You may also be able to partner with local businesses to sell items or gift cards that they donate.
7. Connect With Non-Profit and Community Organizations
In many cases, building a playground aligns perfectly with the missions of non-profits and community organizations. Local churches, youth groups and service clubs like Rotary International are great places to start. These groups tend to revolve around community service, so they're adept at raising money and making change.
Even if they can't donate to you directly, they might be able to help you host playground fundraisers or encourage members to donate or volunteer.
The Benefits of Fundraising for Playgrounds
Fundraising for parks or playgrounds in your community provides several benefits. Your team and your community can gain various skills and experiences, including:
1. More Public Awareness
Playground fundraising efforts are a great way to create buzz around your project. Depending on your event, you might end up on local news outlets and social media or become the talk of the town. You could reach new potential donors or volunteers and help people learn about your playground.
Raising awareness can also apply to the issues you're working to address, such as a deteriorating public park or the health risks associated with a lack of play.
2. Lasting Change
A playground is permanent and helps you and your team bond and build relationships throughout the community. It's a great way to create a real, positive change that stands in the community for years to come. Plus, the playground fundraiser might give people the itch to create more social change and jump-start their involvement in other projects!
3. Team-Building Opportunities
Your team and community will learn how to work together as they work toward funding their playground. As you create a space for kids and families to socialize, you'll also be bringing the grown-ups together through this collaborative project. You could create new friendships and teams and show people how fun and rewarding social change really is.
4. Improved Communication Skills
Throughout the project, your teams will need to communicate with each other and the surrounding community to articulate goals, expectations, progress and gratitude. Team members may gain new communication skills they didn't have before. While new skills are great for everyone, they can be especially useful for your younger helpers, who build up excellent skills and experiences to put on their resumes.
5. A Sense of Accomplishment
As your community works toward and reaches its goal, you'll feel accomplished, as you were able to make it happen. Every time people visit their new playground, they can feel proud knowing they helped contribute to it. It becomes a physical testament to their hard work and the collaboration of the community as a whole.
When you begin fundraising for playgrounds, your community can grow from the experience in addition to receiving a new play area.
Learn More About Playground FunRaising With Miracle® Recreation
At Miracle Recreation, we help create high-quality playground equipment accessible for all communities, even when budgets are tight. That's why we offer a funding resource center to help educate organizations and schools on the best ways to fund playground projects. There, you'll learn how to set up and run your campaign, how to approach potential donors and other essential rules and tips to raise money for your playground.
Our FunRaising program helps communities like yours fund a playground installation project. We'll help you create a plan that ensures you make sufficient profit through your fundraising efforts. We'll also help you create materials like brochures, letters and fundraising packets. A FunRaising representative will help you out at every step of the way to make your fundraising efforts a success.
Get started today so you can make your playground project a reality and allow families to benefit from this asset to your community.