Guide to Choosing Playground Equipment for Ages 5-12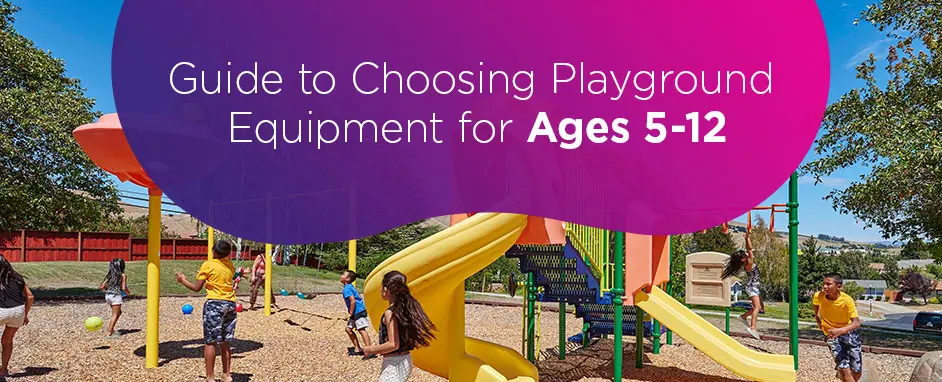 Playground equipment can delight kids at any age, but kids between the ages of 5 to 12 develop capabilities that might require different functions. Whether they are playing in a school or public park, kids can learn valuable skills during play. However, you want to ensure that the playground equipment they use is suitable for their age and physical activity needs.
For school-age kids, certain structures and activities can enhance their outdoor play experience while helping them improve balance and coordination. Choosing elementary school playground equipment that is suitable for this age group is essential. The right playground equipment is sure to safely challenge their upper body strength and climbing abilities and introduce them to a world of imaginative possibilities.
Read the full article or jump to a specific section:
What Should Playground Equipment for Elementary School Children Do for Them?
While kids are developing physically and cognitively, they also learn social skills. A playground is one of the most invigorating places for them to interact with others, test their abilities and challenge themselves to overcome obstacles. The age range of 5-12 is when kids often start to discover new ways of looking at the world and finding solutions to problems. With the right playground equipment, they can explore these elements for active fun in a safe environment.
Playground equipment for school-age kids should help stimulate the rapid growth of their physical and cognitive abilities and let them explore sensory play. Kids should be able to safely play on the playground with structures that are ideal for their developmental level. For example, younger kids would not be able to use playground equipment for older age groups as the height of certain structures might be unsafe or difficult for them to use.
On the other hand, older kids can use playground equipment meant for younger kids, but they would not find it as exciting or challenging as equipment meant for their age group. School-age playground equipment should embrace the growth of kids' fine and gross motor skills, balance and coordination. For kids between the ages of 5 to 12, their skills are becoming more advanced in every aspect and they are ready to take on new challenges.
This equipment should also help inspire kids to use their imagination and come up with games that let them express their transitioning emotions and growing ideas.
What Is Age-Appropriate Playground Equipment for Ages 5-12?
What makes playground equipment age-appropriate? The height of the equipment is an important consideration so that kids can use the playground without difficulty while still challenging themselves. Every piece of elementary playground equipment must be designed and measured accurately for the use of this age group without difficulty.
These measurements ensure that kids will be able to easily play, climb, reach and navigate across all equipment. All equipment should have the required protective barriers, guardrails, surfacing and have no sharp edges or corners. In addition, age-appropriate equipment should also keep kids engaged and occupied for endless fun.
There are specific regulations for playground equipment heights to ensure safety:
While these are just some requirements for playground equipment, there are necessary height measurements for all climbing and fitness equipment, slides or any other type of play structures.
Elementary School Playground Equipment Options
Along with the recommendations and requirements for age-appropriate playground equipment, there are quite a few options to choose from for safe, innovative fun for kids. Many structures and features enhance a playground and incorporate the right atmosphere for high-spirited kids looking for a challenge. Consider some of these elementary school playground equipment ideas and their many activity and developmental benefits for ages 5-12.
Embankment and Spiral Slides
Slides are probably the most common structure you picture when thinking of a playground. There are many reasons why you might add slides to a playground to help enhance play for kids ages 5-12:
They are enjoyable for kids as they experience the sensation of gravity.
Slides can help kids overcome their fear of falling because they can safely interact with varying heights.
Kids can better understand their limits and gain knowledge as they learn how to propel themselves down a slide with ease.
Slides are often one of the most popular features on a playground.
These types of skills can assist in overcoming challenges on other playground equipment that they might hesitate to interact with at first. There are many different types of slides that can provide this fun, interactive play. For example, embankment slides are built into the natural landscape, removing the need to climb a ladder.
Instead, kids can climb up a small hill or mound to get to the slide. This kind of slide is excellent for implementing nature play as it allows kids to use the ground to get the slide. Spiral slides are a popular product on a playground. These slides help with kids' perception of movement and balance and have an exciting, creative shape that makes kids want to play on them again and again.
Climbers
Climbing equipment is a great way for kids to engage with their limbs and use their coordination skills to get from one end or side of a climber to the other. Climbing can help kids build strength and confidence in their movements while using hand-eye coordination to balance themselves. When climbing, kids have to use their fine motor skills to grasp handles, rungs or other support structures to propel themselves higher or lower. These movements can help them learn their growing abilities and use their body weight.
Climbing structures also enable kids to use social and cooperative skills with others to help them get to the top. When kids face the obstacle of climbing, they learn to use problem-solving skills to overcome other challenges. Some common types of climbers include:
Spinners
Playground spinners, also known as carousels and merry-go-rounds, provide a thrilling experience for kids. This equipment helps kids understand motion and rhythm in their environment in a fun, cooperative way. Spinners can teach kids how to maintain proper body posture while spinning. This is a great feature as multiple kids can use the spinner at once and enjoy this activity together, creating more opportunities for social engagement.
Spinners offer an invigorating sensation while assisting with fine and gross motor skills as kids need to hold onto handles and engage their muscles to achieve balance. A few types of spinners offer variations on the playground for school-age kids.
Overhead Gliders
Another type of equipment for kids ages 5-12 is overhead gliders. Some overhead gliders include a handle that kids can hold as they glide from one platform to another. Another type of glider, also known as the Gravity Rail, lets kids sit in a swing-like seat and glide between platforms on a moving track.
This playground equipment is fun to use as kids will feel themselves gliding through the air on their own to reach the other side. Kids can use their body movements and momentum to propel themselves off the platform and slide across, teaching them how to use their own strength.
Overhead gliders are beneficial because they help kids develop their vestibular and proprioceptive systems, which are essential for common functions like balance, body positioning and movement. With overhead gilders, kids can experience the feeling of gravity while cooperating with others and participating in an entertaining activity.
Sliding Poles
Sliding poles, also known as fireman's poles, are an exciting way for kids to get down from a platform on the playground. Sliding poles teach kids to use each of their limbs to grip the pole and slide down, which helps them use their muscles. This feature also acts as an additional way for kids to exit the platform while other kids use stairs, slides or ladders.
These sliding poles can help encourage kids' sense of adventure and courage with high-speed excitement. As they watch other kids successfully slide down the pole, they can challenge themselves to overcome obstacles while having fun at the same time. Sliding poles also help with balance and hand-eye coordination. When kids get to the top and anticipate the exhilarating slide down, they will certainly want to climb back up and repeat this enjoyable activity.
Swings
Swings are certainly a popular addition to any playground. Swing sets help kids develop their gross motor skills, such as pumping their legs and using their core for balance. Swinging also develops fine motor skills as it teaches kids to grip properly and enhances coordination in fingers, hands and arms. Here are some common types of swings.
Youth Fitness Stations
Physical activity of any kind is beneficial for all ages. You can introduce fitness equipment for school-age kids to help them learn the importance of outdoor exercise. Youth fitness stations offer the opportunity for kids to practice their balance, coordination and flexibility skills. In addition, they can also increase their strength while supporting and developing lean muscle. With age-appropriate equipment, kids can experience healthy cardiovascular exercise with fitness courses and fitness challenges with multiple fun stations.
Some examples of youth fitness equipment that would be great for ages 5-12 include:
You can find safe, durable, convenient and customizable youth fitness equipment that allows kids to explore their capabilities while staying active outdoors.
Complete Structures
Another consideration when adding to a playground is complete structures that entail many different activities. These structures offer multiple activities, such as climbers, platforms, ladders or sliding poles in one convenient structure for kids to enjoy their play in one big area. Complete structures also help eliminate hidden areas — enhancing supervision. These well-designed structures have multiple means of access and exit for endless fun.
Just as with freestanding equipment, complete structures can vary in their design and physical challenge features. For school-age kids, getting time to play outside helps release their pent-up energy and allows them to interact freely with others. Complete structures that let kids carefully explore new heights are ideal for providing the ultimate adventure with skyways, climbers, tall heights with enclosures and tuff-net panels. These structures ensure that kids can safely take on the perceived risk they are ready for while enhancing supervision and visibility for adults.
How to Select Playground Equipment for 5 to 12-Year-Olds
Now that you know the different benefits of elementary playground equipment for school-age kids, choosing the right structures is more straightforward and exciting. Here are some tips for selecting age-appropriate playground equipment for ages 5-12.
1. Determine Playground Needs
Consider where your playground is — an elementary school, park or other public space. Your playground's existing and future needs can play a factor in finding the right structure, especially if you plan to expand the size of your school.
You might want to look for an adventurous complete structure or multiple freestanding products that cater to ages 2-12 or 5-12 to encompass all needs, heights and capabilities. This will allow many kids to use the playground at once, ensuring that everyone is included in playtime and gets the opportunity to do different activities. It is necessary to know who the playground is intended for to make the proper decisions about which equipment will be the most sensible.
While school-age kids must have playgrounds that meet safety and height requirements — as for all playgrounds — they will also want fun and challenging structures to play on to avoid boredom.
2. Review the Location
The location you put your playground equipment or structure must have plenty of space. The location of your playground should be able to accommodate the equipment properly and have additional room for open space to avoid crowding. For an elementary school or public park, the playground should be within walking distance from the school, public buildings or the parking lot for easy access.
It may also be beneficial to choose a location with plenty of nature, such as flowers, plants and trees — to encourage kids to enjoy the benefits of outdoor play. Choosing an area with lots of trees may also provide natural shade during the warmer months for kids at play. However, if your location doesn't have natural shade, you can also add shade to your structures to help keep temperatures lower. Additionally, consider the climate of your area and avoid choosing areas of land or soil that flood quickly.
3. Familiarize Yourself With ADA Requirements
We know that playgrounds come with many requirements for safe, hazardous-free play — but what about accessibility? The Americans with Disabilities Act (ADA) requires that public structures and facilities are usable and accessible to people with disabilities. This law extends to children of course, so playgrounds must abide by these standards.
The ADA guidelines for play areas state that the construction, products and design of the playground should include some variations of:
These designs are helpful for kids and adults with mobility devices and special needs. Playground equipment should be a welcoming environment for all kids and encourage them to use their senses to interact with others. Familiarizing yourself with ADA requirements will make it easier to choose inclusive play equipment that suits the needs and abilities of children of all ages.
4. Determine Budget
The budget for your playground can also affect your decision about what type of equipment to get. Determine the appropriate budget for your playground and decide if you want to invest in a complete structure, separate elements or a mix of both. You can also consider playground funding to help fund your playground project to bring exciting play to your school, park or other public facilities.
Finding your base budget will bring you the opportunity to discover other options like financing that will enable you to design and create the playground of your dreams for school-age kids to enjoy endlessly.
5. Research Options
Once you have your budget and funding option in mind, it's important to do your research to find the most suitable equipment, surfacing and structures for your playground. There are endless options for playgrounds equipment and products for all ages and needs. Consider where your playground will be and what elementary-age kids would like to see and experience during playtime. This will help you determine what would be the most appropriate for the number of kids who typically use your playground and their capabilities.
There are also plenty of options for different colors, panels, freestanding equipment and other choices for:
You can mix and match products from any of these categories to create a whimsical, eye-catching environment. You can also create custom playground equipment that is sure to impress any 5 to 12-year-old that gets to play and create fun memories. You can also consider adding site amenities for additional room for adults to sit and supervise while kids use the playground. School-age kids can also use these amenities to eat lunch and enjoy the outdoors.
Contact a Miracle Recreation Representative Today
Finding the right equipment for elementary and school-aged kids has never been easier with Miracle. We want to help you create the playground of your dreams — exciting kids and adults alike and boosting social interaction and engagement. For kids aged 5-12, it's an important time in their life to express themselves during play and learn to play together with others. On the playground, kids can develop necessary physical, social, cognitive and motor skills that help them grow in confidence.
At Miracle, we offer playground solutions that extend far beyond your expectations and ensure that all of our products are durable with the quality you desire. We can't wait to help you create a fun, thrilling space for kids to play. Find a Miracle Recreation representative near you today to begin building your playground.